Cancer Pain Eliminated with Baking Soda

It wasn't too long ago that I wrote an article about baking soda and its more than 100 uses. A little more digging and now we can add one more to that list. I'm talking about effectively managing pain. Cancer pain can be a major issue and yet modern science really doesn't have an answer.
Not much available for Cancer Pain.
Everything available right now does a very poor job when it comes to pain caused by cancer. The only options are various cancer treatments that don't treat the pain but treat the cancer itself. If the treatment works then the pain is reduced or eliminated. If the treatment does not work which is normally the case, pain just gets worse.
Option number two is prescription pain pills or IV pain medication depending on the situation. In general, pain pills work great for most of the population if you're not taking them for long periods of time. Cancer patients for the most part have to take pain meds for lengthy periods. After a while they start to lose their potency. When that happens the dose goes up and up and the cycle continues. After doing this for a while they seem to lose most of their effect if not all.
Pain Medication has Major Side Effects.
Side effects from the pain pills start to pile up as well. From the start, those side effects are dealt with because of the accompanying pain relief. But as time goes by and pain relief decreases, those side effects quickly outweigh any relief the pain pills once had. Now the pain pill option is gone or not helpful. After that you hear, we can't do anything else for you. That's like watching someone drown, but the struggle lasts months not minutes. Not a pretty picture.
Cancer Patients Deal with Pain Everyday.
This happens to Cancer patients every single day. Why isn't more done to help Cancer Patients? Maybe it's a lack of awareness or just plain lack of information? Or maybe we just don't want to know about things that are so dark? Or just hope that it's not true? Or just accept that it's normal? Maybe it's just easier to look the other way?
With all the odds stacked against us, all the weight of negativity on our shoulders, the tiredness of battling every single day, hope is still alive.
Baking Soda Helps Cancer Pain.
While researching I stumbled upon a very interesting study that can one day change cancer pain forever. A study in 2011 used baking soda and DMSO infusion to treat 18 patients with Prostate Cancer pain. The results showed significant improvement in clinical symptoms, blood tests, and quality of life. Baking soda and DMSO infusion also showed no major side effects.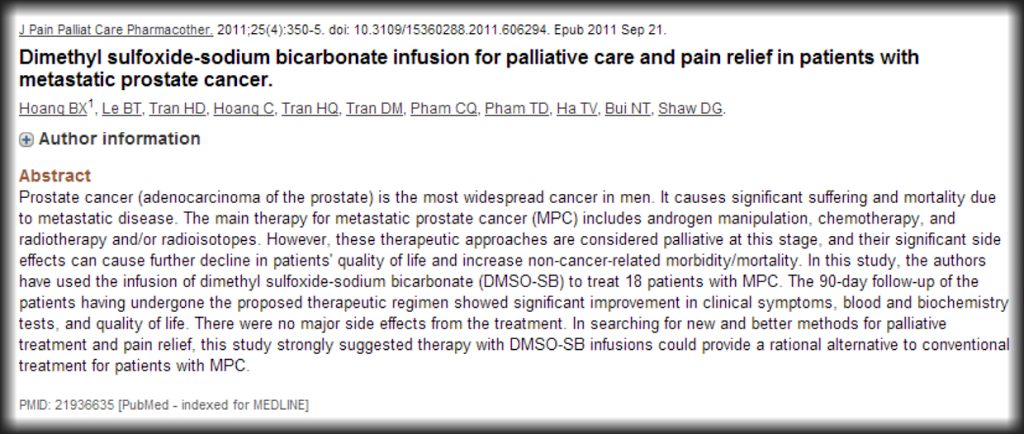 Baking Soda Pain Study #1.
Baking Soda Works Better Than Pain Medication.
The study does not report if the infusion had any type of anti-cancer effect which would be my first question. I would like to know if the baking soda solution relieved the pain directly or indirectly by targeting the cancer. Even with the lack of certain information the study still tells us a lot. This solution already seems to work tons better than the current options available today. If we would compare baking soda solution to current pain management it would be a no brainier. One has no major side effects and is effective. The other has many side effects and is not very effective. Need I say more?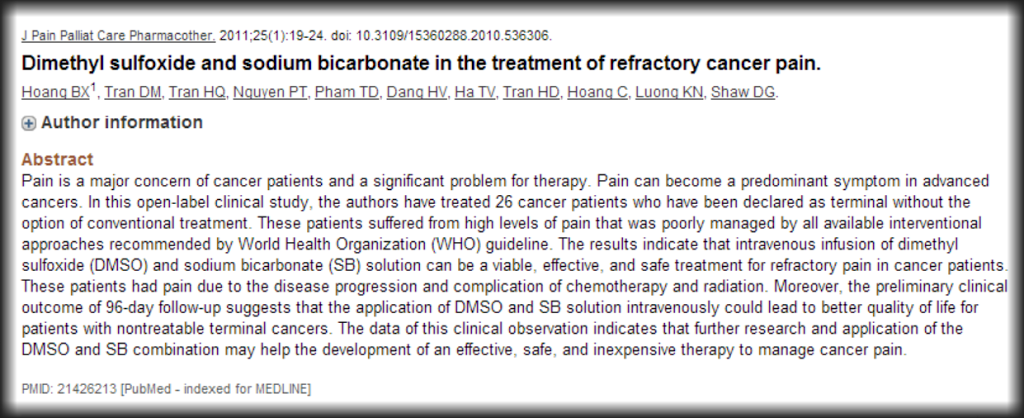 Baking Soda Pain Study #2.
Why Isn't Baking Soda Used for Cancer Pain.
Why this isn't being studied more and implemented as an option for cancer patients is the same mumbo jumbo as always. It's the same old story and same old excuses that are used over and over. What is it this time? Lack of Funding? Lack of facilities? No FDA approval? Not patentable? Not profitable? Not important enough?
Help Cancer Patients By voicing your opinion.
I think the voice of the people is stronger than all the above. We can make great things happen when we work together. Voice your opinion and do your part. Write a comment on this page or send this page to a friend and spread the word. If we are loud enough, someone will eventually hear us. It's time to do something.
Sources:
Cancer Pain Eliminated with Baking Soda
was last modified:
January 21st, 2017
by