Cancell/Cantron/Protocel Cancer Treatment Review

Cancell, Cantron, and Protocel is a liquid mixture or capsule formulation that is promoted as a cancer treatment. Cancell and similar products have been produced since the 1950's. Its been reported that the formulation was given to cancer patients free of charge by the original chemist Entelev and the second manufacture that called it Cancell.  The exact ingredient composition is unknown. However, the FDA has listed inositol, nitric acid, sodium sulfite, potassium hydroxide, sulfuric acid, and catechol as known components.
This formulation has a somewhat controversial history. In 1989, the FDA prohibited the manufactures of Cancell from distributing the product and determined it as an unapproved new drug. At that time the product was not permitted to be shipped across state lines. Now Cantron and Protocel are no longer free and can be purchased through various websites marketing them as only dietary supplements. No direct Anti-cancer claims are being used by the manufactures themselves, but the same can't be said for numerous 3rd party websites. Hundreds of testimonials of the anti-cancer effects of Cancell are easily found throughout the internet. Some websites even have specific protocols and steps to follow when taking this as a cancer treatment. But the real question is, does any of this have any scientific proof? Because that's all that truly matters.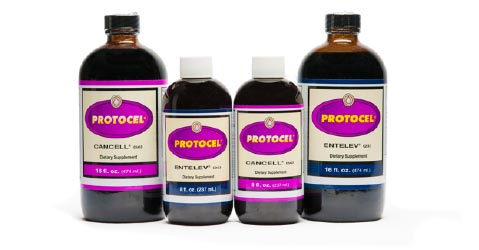 Cancell Cancer Studies.
Petri dish in vitro studies have been performed to test Cancell anti-cancer effects. Test showed extremely high dosages were needed that were not possible in humans to have an anti-cancer effect.  The NCI also performed animal studies to test this mystery formulation. The animal studies concluded the formulation "lacked substantial antitumor activity". So far things don't look so good for this hyped up wonder treatment. But human studies are the only thing that really matters anyways. However, Cancell has none. No Human studies have been documented what so ever for Cancell. And that is the single thing that will either prove or disprove its effect on human cancer. Other things like Vitamin C and Curcumin have been tested in humans. So why not Cancell? Its been around for long enough. A high number of people promote it. And yet not one human study? I wonder why?
Red Flags.
The theory of why Cancell should work has not been proven. It is just a theory that has no scientific evidence behind it. Cancell is said to force cancerous cells into a primitive state where they dissolve and get replaced by new normal cells. No studies have shown this formulation can do such a thing. Whats worse, the mode of action varies from one manufacture to another. Why would a mode of action of the same formulation and concept vary at all? Not only did the actual formulation lack proper testing, but the theory isn't even a proven one. Another concern is the lack of an ingredient list. It's never a good idea to take anything that is unknown. At the end of the day we have a colorful bottle and don't even know what's inside. Does that sound like a credible cancer treatment to you?
Source:
Cancell/Cantron/Protocel Cancer Treatment Review
was last modified:
April 4th, 2017
by