Chickpea Cancer Treatment Cure Or Hoax?

I have come across countless cancer remedies over the years. Some of them completely outrageous, some very promising, and others falling somewhere in-between. When coming across the chickpea cancer treatment I didn't know exactly where it fits.
Chickpea Cancer Cure?
The presentation used by George E. Ashkar, PH.D was pretty horrible. I first found this cancer remedy from a friend that let me borrow a soft covered 20 page book that the doctor published. It looked like a low budget attempt all around. It felt low quality and lacked the credibility to discuss such serious things like cancer cures. That leads me to the second thing I didn't like. He used the words CANCER CURE. The second I see the words CANCER CURE I completely start to lose interest.
Lastly I didn't agree with his reasoning on why the chickpea cancer treatment would work. It's hard to believe a treatment will work if you question the entire understanding he has on cancer in general. But I Tried. And what I realized is the chickpea cancer treatment in theory is plausible. But not exactly how the doctor claims.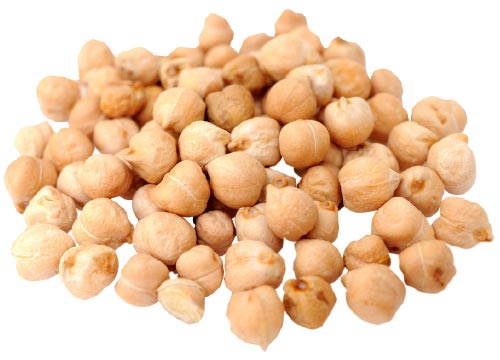 Chickpea Cancer Treatment.
The treatment details are probably something you never heard before. You don't eat or ingest the chickpea in any way. The chickpea is used to put into an open wound you create on your own leg. You create the open wound by putting a clove of garlic on your skin for about 8 hrs to create a blister. Once you have a blister you cut off the dead skin from the top. The doctor claims this will not be painful. A chickpea is then inserted into your wound. Then a wrap is used that contains a piece of cabbage to retain moisture. This is done so the wound doesn't have a chance to heal. That way you can change the chickpea daily. That pretty much sums up the chickpea cancer treatment. This sounds pretty crazy so far doesn't it? But does the chickpea cancer treatment have any merit what so ever?
Why The Doctor Says It Works.
He goes over a lot of theories about how chemicals and carcinogens cause cancer. Which is true but we now know that isn't the only cause. Most of his theories are based on information we had in the 1990's. Since then we know a lot more about cancer then we did in 1990. That's just another thing that works against him. Without getting into to much detail, his claim was that the chickpea is removing the toxins from the body and in turn healing you from cancer. I personally do not agree with this concept. But I do think it's plausible that putting a foreign object in your body like a chickpea might create an immune response. And that immune response would be the reason for any anti-cancer effect.
We know that the immune system is capable of reversing cancer because new age cancer drugs like Anti-PD-1 are immune specific. The immune system is very powerful and is capable of things we never thought possible. Infections causing spontaneous regressions have been documented through out the years. Of course the chickpea cancer treatment is an unproven theory. Even though in theory it can work, just remember a lot of other things were suspected to work in theory and failed when scientifically tested. The best thing would be to have the chickpea cancer treatment tested in a human study and verify its effectiveness. But honestly I don't see that happening because the entire procedure is not entirely credible or user friendly. Serious infection will always be a risk and concern. The entire thing just doesn't look like it would be adopted by the medical community or the public for that matter. For now we just have to go by the information we have. And at this point it's not much.
What Do You Think?
Is it possible for the Chickpea Cancer Treatment to be effective?
Chickpea Cancer Treatment Cure Or Hoax?
was last modified:
January 21st, 2017
by