Curcumin eats Cancer for breakfast

The substance that gives Turmeric its orange color is called Curcumin. The more you read about it, the more ways you find out it can kill Cancer. Curcumin can inhibit Cancer pathways that other antioxidants only dream of. Curcumin is the nutrient other nutrients want to become when they grow up. On paper it almost looks too good to be true. But is it? 
Inhibits various Cancer pathways.
As you can see above, curcumin has a pretty extensive resume. This resume has brought it to my attention many years back.  I stayed up late at night reading about its anti-cancer abilities. I was completely excited when researching it.  I thought I found something that can realistically help my Mothers Ovarian Cancer.  I came across the usual animal studies that showed good results etc. But we all know those results don't always carry over to the human side.  Almost never do.
Effective in Cancer Study.
So as my search continued, I found some human studies done with curcumin. Like the MD Anderson study in 2008. That study showed that 8g of regular curcumin daily showed an anti-cancer response. 2 out of 21 pancreatic Cancer Patients had a response.  One Patient had stable disease for more than 18 months. The other had a dramatic tumor regression of 73%.  That response actually compares to chemo-therapy, just to put that in perspective. Commonly used chemo-therapy drugs for pancreatic Cancer only have a response rate of less than 10%. Not bad for something that grows from the ground. I was amazed.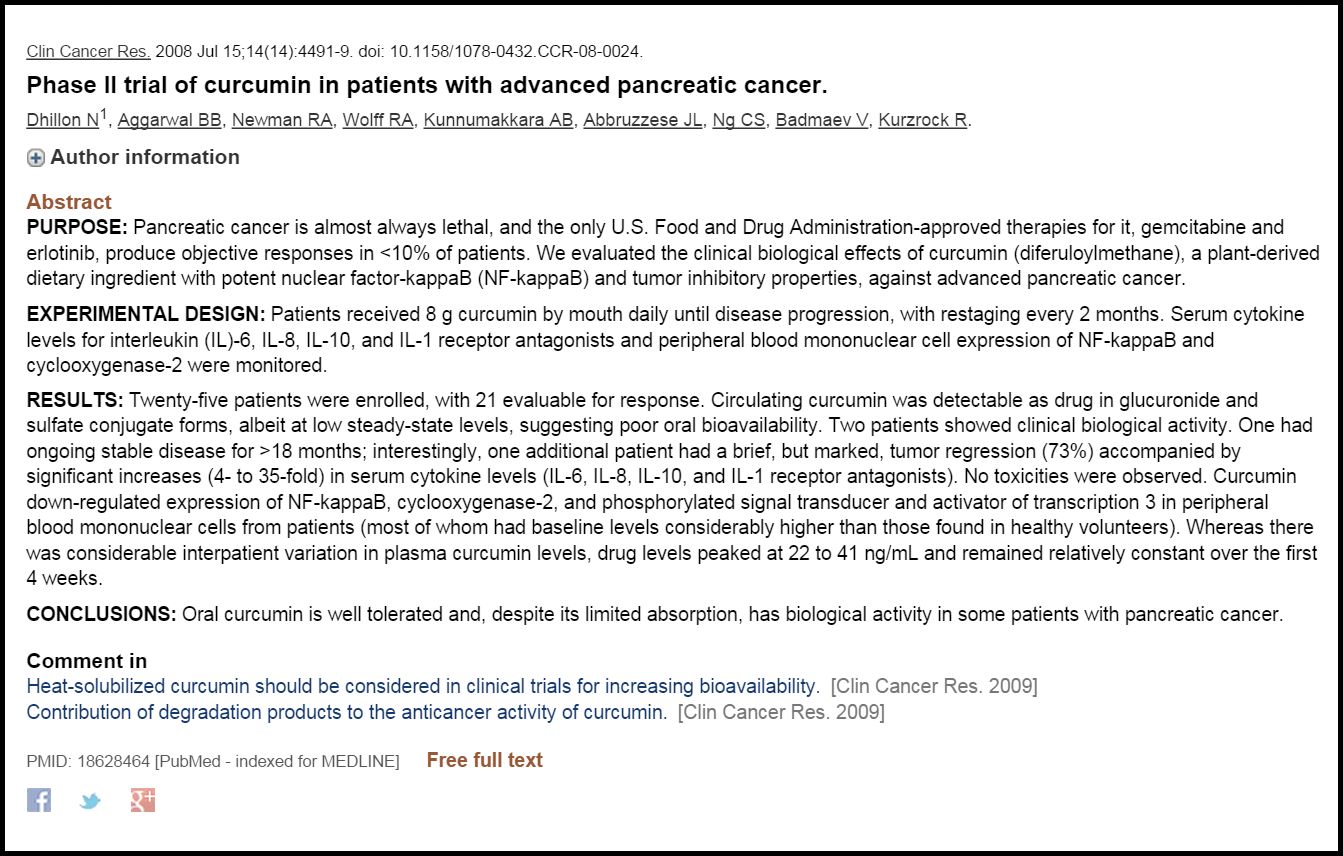 Poor absorption in humans.
 These results are somewhat good compared to treatments we have now for pancreatic Cancer. But curcumin still disappoints in real life. Its resume looks like it can take on any Cancer. But in reality it seems it can only help 10% of Patients. Curcumin has many strengths but one weakness. And that weakness is absorption. Not only is absorption very poor, but it can differ from one person to another. This is why some people have dramatic responses and some no response at all. This is the biggest bottleneck.
Bio-available forms available.
But this weakness can be mitigated in certain ways. One way is by using a special bio-available form. To my knowledge there are 3 different forms available. All will allow better absorption compared to regular curcumin. One is called BCM-95. It was one of the first forms to be formulated. It basically combines curcumin back with turmeric essential oils for better absorption. Simple but effective. 

The second kind is liposomal. This type delivers curcumin in fatty envelopes that are highly absorbed in the body.  Liposomal is a generic process and many companies can produce this form. So be very cautious when buying. Some might just be imitations or very poor quality. Some might do more harm then good.
The third type is called Thera-curmin developed in japan. This is the first nano-particle form. All these types have tremendous absorption increases compared to standard version. Not even close. Miles apart.
Will not work for everyone.
 Anti-cancer blood levels can possibly be reached with a large enough dose. Keyword is possibly. The problem is you won't know unless you can take specific blood tests. Absorption rates differ from one person to another. So taking anything orally will never be guaranteed.  My mother probably experienced poor absorption. It was a major disappointment. Out of everything we ever tried, I believed in it the most. Even using highly bio-available version sadly did not produce any results. Complete Failure.
Very Effective for Pain.
The only positive effect I can personally speak of is its effect on pain. It seems to be a strong anti-inflammatory. It works very well on certain types of pain. Cancer patients need to be very cautious.  Using it can help with pain but might give you a false anti-cancer feeling. Do not interpret an anti-pain effect as an actual anti-cancer response. This can really be dangerous. Please keep this in mind. 
If you have any personal experiences or questions please leave a comment. 
Curcumin eats Cancer for breakfast
was last modified:
January 21st, 2017
by