Essiac Tea Cancer Treatment (Rene Caisse Remedy Cure)

Essiac tea has been around for almost 100 years. It was promoted as a cancer treatment by Canadian nurse Rene Caisse. Essiac is actually her last name spelled backwards. Essiac tea is reportedly a combination of burdock, sheep sorrel, slippery elm, and Indian rhubarb. But other combinations do exist. Original exact composition is unknown. Rene claimed to have learned about the mixture of herbs from a Ontario Ojibwa patient she once treated that used the tea to treat her own cancer. Ever since then, Rene cured countless terminal cancer patients, or at least that's how the story goes. Such an amazing story, but can this herbal tea stand up to all the claims it has collected over the years?
Essiac Tea Issue #1.
The first big problem about Essiac tea is the formulation. Many variations of the herbal remedy exist. All of which of course claim to be the original herbal formulation. In 1977 Respirin Corporation actually purchased the Essiac formula rights from Rene so they can commercialize the tea into a consumer product. But this doesn't guarantee that changes were not made to make the product more consumer friendly. Were things added or removed to get a longer shelf life? What changes were made for taste?
If the formulation discrepancy wasn't enough,  a specific process was also used to make the tea. The process includes boiling the herbs all in correct quantities. 10 grams of mixture for every 1 and a half liters of water. The next step includes steeping the boiled mixture for about 12 hrs but not more then 18 hrs. Then bottling it, refrigerating it, and reheating it if need be. At the same time making sure the tea was never boiled for a second time to avoid rendering it ineffective. So even if all these steps are 100% correct and you wanted to do it yourself, you still have to wonder whether you're even using the right formulation to begin with. That should be enough to give you pause. If it's not, lets take a look at the scientific evidence.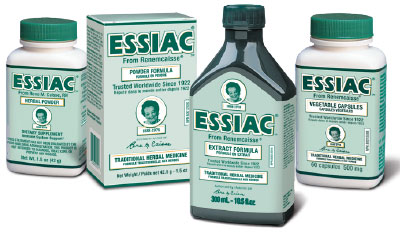 Essiac Tea Issue #2.
Second issue with Essiac Tea is conflicting Cancer study results. A 2007 study tested Essiac on prostate cancer models in both vitro and vivo. In Vitro, Essiac showed no difference between control and treatment. In vivo no tumor response was noticed for over 28 days of being tested. Study concluded Essiac has no anti-proliferation effect on models tested. Another study from 2004 tested Essiac on a Prostate cancer cell line and showed a decrease rate of proliferation. Study concluded that Essiac might be able to inhibit tumor cell growth while at the same time enhance immune response. These conflicting results show that Essaic tea can be cancer cell specific. Being helpful for certain cancer cell lines and doing nothing for others.
Essiac Tea Issue #3.
Next Issue with Essiac tea is no human studies testing its effect on cancer has been conducted. The only sure way to know how Essiac Tea will work in humans is to of course test it on humans. Studies performed on mice are great to see if more research is needed, but never a good indication for how something will work on humans.  Time and time again we learn success in mouse studies doesn't always translate to humans. And with Essiac tea, we don't even have that early success that so many other treatments have. Like Apatone for example.
Unfortunately, this is one treatment with one to many unknowns. So far none of the great things the story claims has ever been proven in real life. This story is filled with testimonials, amazing cancer cure claims and just about everything else, but sadly scientific evidence is one thing this story is missing.
Source:
Essiac Tea Cancer Treatment (Rene Caisse Remedy Cure)
was last modified:
January 21st, 2017
by