Free Curcumin, Which Curcuminoid Formulation Is Best

If you've ever heard of a positive study that mentioned curcumin, then most likely it was due to free curcumin. And when I say free, I don't mean at no cost to you. Free curcumin is a curcumin molecule that is unchanged and hasn't been metabolized. When curcumin is ingested, it goes under an enormous amount of changes and gets converted into metabolites and glucuronides. Studies show these derivatives offer different health benefits then free curcumin. Therefore, it is important to know which supplement can offer this superior curcuminoid.
Hard To Find Data.
As I stated in my last article Bcm-95 Vs theracurmin, marketing for these types of supplements are the worst. Trying to find the truth sometimes requires hrs of searching which many people just can't do. Of course positive data is brought upfront, while negative data is swept under the rug quietly in hopes of never being found. This couldn't be more true when it comes to free curcumin. Data is either modified or excluded completely from studies and product information alike. I'm mostly talking about theracurmin here but most brands are guilty of the same to a lesser extent. Either way, consumers are left in the dark.
Free Curcumin.
While it's hard to find a clear winner in terms of free curcumin absorption, studies are available that gives us a slight glimpse of possible contenders. It's hard enough to compare total curcumin absorption between brands, but it becomes pretty much  impossible with free curcumin. So instead of looking for information that doesn't exist, lets focus on what does. The following chart is tremendously helpful in narrowing down your search for which brand can offer you free curcumin.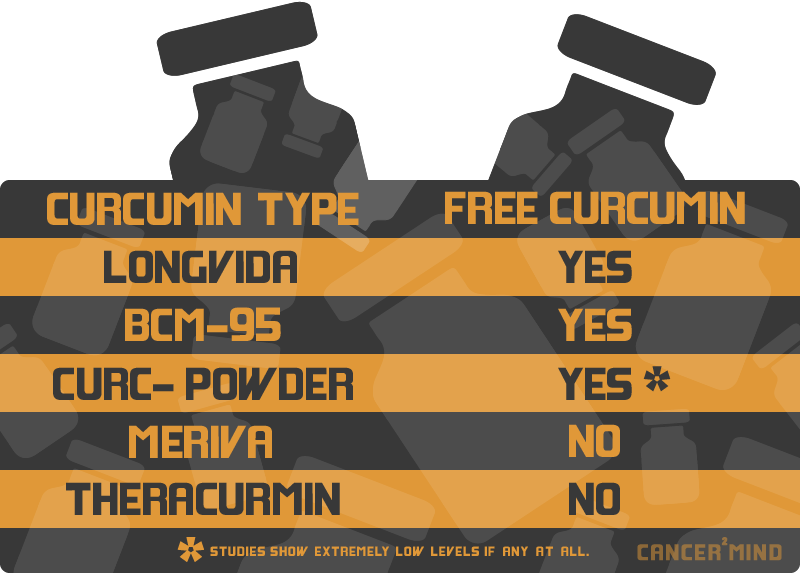 Regular Curcumin Powder.
10g of regular curcumin extract powder is capable of producing detectable levels of free curcumin in the blood. However, a pharmacokinetics study showed that it is extremely rare and only 1 out of 12 patients had detectable levels. That is pretty disappointing to say the least.
Only Two Choices Left.
Regardless of the common argument about how free curcumin is measured in formulated curcumin studies, Bcm-95 and Longvida seem to be the only two choices left for debate. Both claim to provide a product that can deliver free curcumin into the blood stream and have studies to somewhat back up that claim. While these studies are still murky at best, they are better then no studies at all. We can at least say these two options are far better then the rest, at least when it comes to free curcumin. The key here is to avoid taking a supplement that has no data to show it can offer you the curcuminoid in question. Avoiding clear losers can save you both time and money.
Bottom line.
Negative information is hard to find since a lot of money is at stake for these nutraceutical companies. The marketing gimmicks they use can surly confuse just about anyone. What's worse, these companies have started to cleverly conduct studies that showcase their products best instead of producing studies that provide both positive and negative results without bias. Furthermore, studies are purposely conducted in a way that makes it extremely difficult for similar products to be compared.  Almost as if it was done just to confuse consumers from knowing the truth. So in the end, we are trying to put together a puzzle with missing pieces in the hopes that enough information is uncovered to make the right choice. And as always, feel free to comment below and let us know which curcumin you chose.
Source:
Free Curcumin, Which Curcuminoid Formulation Is Best
was last modified:
January 21st, 2017
by