Baking Soda Cancer Cure Dangerously Popular

Baking Soda is known for its endless uses around the house. It's used as a remedy for heart burn, an effective cleaner, and even an amazing odor controller, just to name a few. And these are not even scratching the surface. But can baking soda also be an effective Cancer treatment as well? That's the real question.
Baking soda already solves just about every household issue imaginable, so why not add Cancer Cure to the list? Baking soda already seems to have magical powers. I mean it has over 100 practical uses already. With that extensive resume, it would be pretty easy to just add more things to the list. It fits the bill perfectly actually. It's really cheap, non-toxic, and just about everyone already has it at home. Why not try it right? It's almost too easy. And by looking at it quickly, it virtually has no risk.
Trying baking soda probably won't kill you. But the risk is not in baking soda causing harm, it's wasting time on something that might be pointless. That's the risk. And if you ask me, that's a huge risk. Time is super valuable when battling cancer.
The internet doesn't make it any easier. With literally thousands of websites promoting the baking soda cancer cure, it's hard to find a second opinion. Whether its baking soda alone or mixed with molasses, the message is the same. According to them, baking soda cures cancer.
Cancer Patients Are lied to.
These sites do just that, twist information to make it sound exactly how they want. They are masters of half truths, twisted lies, and fictional proof that makes no sense. But they put it in a package that's so properly disguised and sugar coated, it's hard to spot the rotten apple. Innocent cancer patients, which are the entire reader base for articles like this, have even more of a difficult time seeing the truth. Understandably, cancer patients want to find something that helps them so desperately, believing hype is a common trap they fall into.
Animal Studies vs Human Cancer Studies.
For example, one site I came across when doing my research was using animal cancer studies that used baking soda as a way to prove it was a Cancer cure for humans.  As we all know, animal studies do not for the most part translate into human results. Of course, they didn't bother to mention that this was only an animal study so humans should not expect the same results. They did the complete opposite. They based the entire article on that study to support the Cancer Cure claim. Comparing an animal study to a human study, is like comparing a bicycle to a car. Both might have wheels, but lets not get crazy here.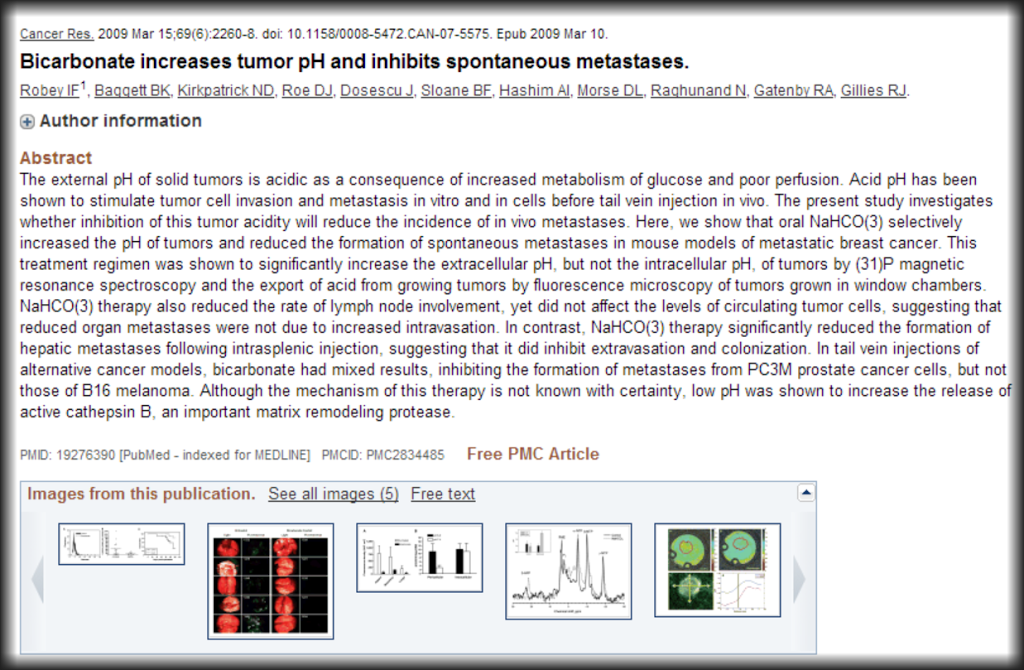 Human Cancer Studies Not Understood.
Another website used a baking soda study that received a 2 million dollar NIH grant to research the effects of baking soda on Breast Cancer. They used this study to make its cancer cure claim more credible. But once again, information was twisted because the study is using baking soda as a way to increase effectiveness of chemotherapy drugs and a way to reduce metastases. The study is not using Baking Soda as a sole treatment for Cancer, like the author wants you to think. A simple play on words and the entire article can be easily camouflaged. Yet another false cancer cure claim.
Cancer Doctor Without Clinical Trials.
Another popular claim comes from a doctor in Italy named Dr. Tullio. Allegedly he has the ability to treat cancer by directly injecting a Baking soda solution into the tumor itself. The issue with this treatment is no real poof can be found to support his claims. No human trials have ever been done. We only have the word of the doctor himself and the world famous testimonials. None of these are proof. And they shouldn't be enough to gamble your life on. We all would love this to be true, but we have to remember to look at the facts and not be blinded by our feelings. Picking this treatment over another can be a life changing decision, so treat it like one. Don't let your emotions get the best of you. If at the end of your research you still feel like giving it a try, that's fine, but don't just try it cause you heard it worked for someone else.
Human Cancer Studies Are Most Important.
Usually I only consider an alternative cancer treatment having merit if it has 2 things. A lot of research and a human study that shows positive results. A human study that shows a positive effect is the most important piece of information in my opinion. I searched for any type of human baking soda cancer study, but found nothing. So really the only thing left to do, is wait for more data.
Baking Soda Cancer Facts Come Up Empty.
From the data available so far, we can't say for sure what effect oral baking soda has on human Cancer. If we said anything, it would be purely guessing at best. It might be proven in the future that it can inhibit metastases, but we are still awaiting results even for that. So of course, when looking at the facts, things don't add up. In fact, with current research, my position is completely opposite to all the other questionable websites. Facts are what matter, and that's one thing fraudulent websites just don't have.
I hope by writing this article I can save someone the time from making a costly mistake. If you have any questions about the baking soda treatment or have personal experiences, please leave a comment below.
Sources:
Baking Soda Cancer Cure Dangerously Popular
was last modified:
January 21st, 2017
by